Frisas – Front Box
Frisas – Best Seats in the House
Open air Front Boxes (Frisas) are easily the best seats in the house. You are located on the same level as the parade runway and are so close, you can feel the energy exuding from the marchers. Frisa tickets grant the ticket holder access to a seat in the box of 6 for which they have purchased tickets. These seats are ideal for parties of 6 who want privacy and purchase the entire box, but they are also a wonderful option for parties smaller than 6 who purchase individual tickets. Front boxes consist of six seats measuring 2.4 meters by 1.7 meters.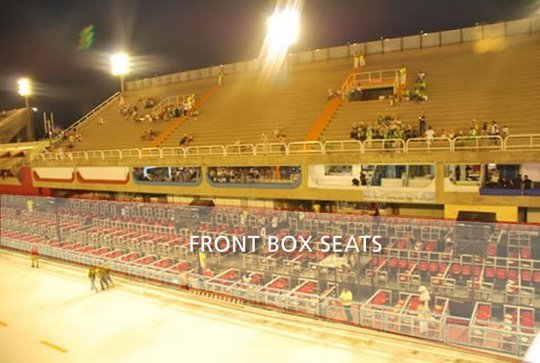 Frisas are located at the bottom and toward the front of each sector and range from rows A to D. Row A is situated directly on the same level as the Samba runway, with each subsequent row slightly elevated like stadium seating to provide just enough elevation to offer the best views of the parade. Frisas come in boxes of six with a small table in the middle and offer the same level of privacy as the luxury box camarotes, without the additional VIP services.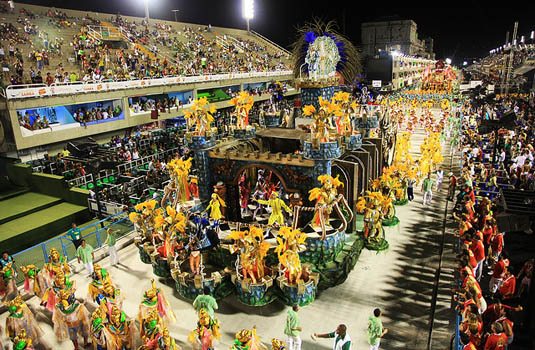 Frisas are widely regarded as the best seats in the house and this is reflected in the price. These open air boxes put you up close and personal to the samba dancers in the comfort and privacy of your own six chair booth. Row A is within 20 feet of the samba runway, affording the best views of the ornate costumes and the elaborate and gargantuan floats.
The frisas allow you to feel the beat of the samba drums from your own private box, and you will see the vibrant and mesmerizing floats, fast-paced dance moves, and intricately designed costumes as if you are part of the parade. An added benefit is the private table positioned in the middle of the front box — a great spot on which you can put your food, beverages and other belongings. The front boxes (or frisas) are considered by many to be the best seats in the Sambadrome, offering the same level of privacy as the luxury suites, without the VIP services. And remember: you don't need to book the entire box to enjoy the best seats in the house.